At the current time, there is only one home for the Asiatic lion. this is despite many millions spent to change this situation. For a decade Gir forest has been meant to transfer a handful of lions to Kuno reserve, in order to give them a second home.
Why is this important? We need multiple homes for Asiatic lions. There was recently a huge storm over their one home. It is not unthinkable for the Gir forest to be devastated by something similar.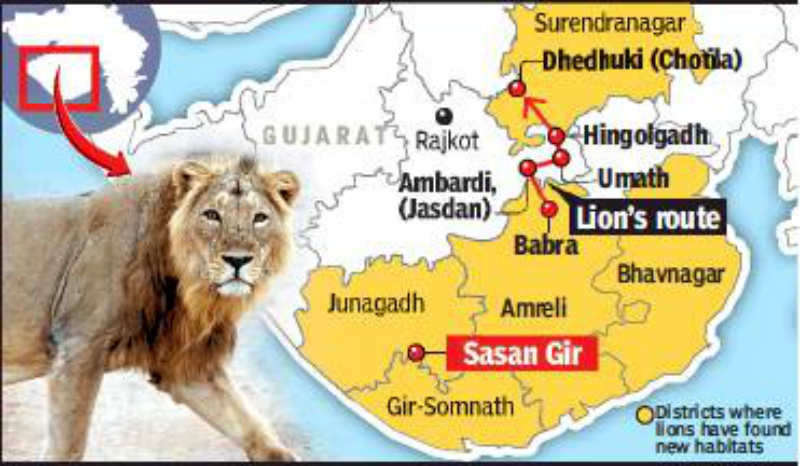 The government of this part of India has declared exclusive rights to the lions – an absurd claim given these lions once roamed across Asia, north Africa and southern parts of Europe.
It would appear that lions are taking matters into their own hands (or paws). Gir forest has a lion density way too high, which is leading to high mortality from fights between males and infanticide to bring females back into oestrus
Lions are now regularly seen as far away as Madhavpur an area which would take hours to drive to (from Gir national park). They have also created new populations in Girnar, paniya Mitiyala reserves as well as in a whole host of unprotected zones.
One of the areas that the lions have been moving into is Jasdan-Chotila. Lions disappeared from this area about 150 years ago, but the area is still well suited to them. There are various species of prey, and leopards have survived in the area. There are various mitigations that locals would have to make to live comfortably alongside lions. There are also many wells in the area, which will have to have walls built around them, to stop the lions falling in. Lions falling to their deaths have been a significant reason that the Gir lion population has not grown bigger in recent years.
Still this is exciting, though it should force local politicians to look at the health of the lion population as well as their own bottom line as the only place to see Asiatic lions.