The Gir forest was the last refuge of the Asiatic lion. Back in 1893 it was thought that there were only 18 animals remaining. Thankfully that number has rebounded very well (there are scientists who doubt this extremely low number) and the Indian lion population is now thought to number about 600. The problem is, that the reserve is not particularly large at 1410 square km (544 square miles). Even in the Serengeti (which has one of the highest density of lions) there is about 1 lion for every 2 square miles, yet the Gir forest has more than one per square mile. This contributes to a mortality rate that is dangerously high, with 283 lions dying in the last couple of years.
As such it is not surprising that many of the lions live outside the reserve, and is thought that around 1 in 4 live outside the reserve.
This was one of the reasons that efforts were made to move some of these lions to other reserves, but Gujarat has blocked this despite loosing various court cases.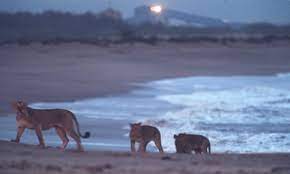 Now, it is not easy to live alongside lions, and the state government is both endangering the long term survival of the Indian Asiatic lion, as well as many of its human population by its determination to hold onto the whole population within its borders.