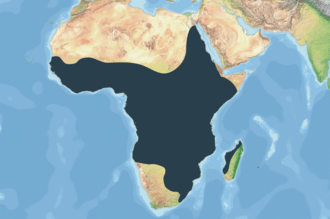 The Nile crocodile is spread widely throughout sub-saharan africa (except for parts of South Africa, thought to be natural and not due to hunting). A suggested subspecies is found in western Madagascar, there are 7 such subspecies, though none have been officially recognized.
While it was originally thought to be the same species as the western African crocodile (confusing given its range), it has actually been found to be closer related to various crocodiles from the Americas, particularly the American crocodile. As such, parts of the map above may actually host west African crocodiles exclusively.
The Nile crocodile is considered the second largest on earth, only beaten by the saltwater crocodile of Asia, interestingly, interestingly the saltwater crocodile is also the only crocodilian that has a greater range than the African crocodile. It was thought that the crocodile had arrived on Madagascar in the last 2000 years – after the extinction of the endemic Voey crocodile, but recently a skull was found and dated to be 7500 years old, suggesting that they must have coexisted for millennia.
While rarely venturing into the sea, they can (like all true crocodiles) survive here, and one was found alive 11 miles off the South African coast in the past.
They have been found in the Florida Everglades, presumably after an illegal introduction – there is so far no evidence of them successfully breeding here. It is unclear of their origin or where they came from, though they are genetically most similar to crocs from South Africa.
While they usually only dive for a few minutes at a time, they are capable of holding their breath for 30 minutes of activity under water – impressively, those inactive under water can stay down for around 2 hours. While rapid and effective hunters in the waters and along its edge, they are far less capable away from the water, and it is rare that they hunt away from water, having said this they are known to hunt here, and are incredibly adaptable to any opportunity. They have a surprisingly small stomach, only the size of a basketball.
Only around 10% of eggs will hatch and around 1% will survive to adulthood. Certainly, much of this damage is down to the Nile monitor lizard, which is thought to be responsible for as much as 50% of the eggs on its own, though median sized cats, baboon troops and mongooses all attack crocodile nests with regularity. Once born, crocodiles are even more at risk, both from animals already mentioned, as well as virtually every predatory water bird, from storks and egrets to even pelicans. Unfortunately, the biggest threat are other adult crocodiles which will happily eat young. While the mother does stay around, and aggressively protects her young, there are so many animals trying to snag a meal, many of the young crocodiles are caught during this time.
The biggest threats include loss of habitat, pollution, hunting, and human activities such as accidental entanglement in fishing nets.
Current estimates are around 250,000 to 500,000. In some parts of Africa they are farmed for their hide (their meat is unpleasant).
Their population is less healthy in western and central Africa, being more sparsely spread. This also makes it hard to do an accurate assessment of their status in this part of Africa.
Along with the saltwater crocodile, the African nile crocodile is estimated to kill anywhere from hundreds to thousands of people each year, with attacks generally carried out by larger crocodiles (thought to be over 3.5m). Given the numbers, it is thought that nile crocodiles and saltwater crocodiles are the most successful hunter of humans – far more fatalities than great while sharks. One study suggested, that while the danger of lions was well known, there was a bizarre feeling that crocodiles were not dangerous. The numbers may well be down to the fact that crocodiles live in water – a place where humans are forced to go regularly.