The Italian Alps and Appenines
The Italian Alps cover an area of consists of 27.2% of the whole of the alps or 81,090 square km, which is 31,300 square miles. Common wildlife species to see are Chamois (pretty plentiful) these can often be found low in the mountain valleys, Alpine Ibex nearly pushed to extinction during the 19th century, but recovering well now which are expert climbers and can be spotted often on incredibly steep cliffs and Marmots which are actually members of the squirrel family, but live only on the ground, and have become extremely capable diggers, even in frozen soil.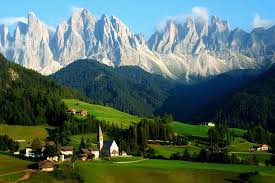 The Apennines mountains which lie further South formed the last refuge of the Italian wolf by in the 1970s, when they were given full protection. At this time there were only 70-100 wolves left in Italy. Thankfully since then their numbers have climbed steadily, and there are now thought to be around 2000 now living in Italy, though this population is almost completely confined to the Apennine and Alpine regions of Italy. The majority are in the Apennine mountains, though the Alps are clearly good habitat, as the number is climbing fast with at least 300 thought to be living in the Alps in 2018, this number has doubled since 2015. While no significant survey has been done since, one can only assume that the number has grown significantly in the last 2 years.
The Italian Alps wolves consist of 51 packs. While wolves howl less in Europe due to human persecution over the centuries, than they do in the USA, with this much territory competition, they do howl from time to time as a way of spacing themselves out without having to fight.
As with elsewhere, Italian wolves are not easy to see, however in some ways they are an easier wildlife holiday for families than many other options. This is because they are almost entirely resting during the day, allowing for other family friendly activities. The only times of day that it is worth looking for wolves is in the early morning, and in the evening.
Finding a high up point overlooking a valley, if you are lucky you will see the animals moving below. When particularly lucky, you might hear the eerie howl of a wolf. There are a variety of reasons for howling, but if territory is in dispute, the whole pack will howl together and you will usually hear the other pack responding.
There is a population of about 80 bears in the region of Trentino in the central alps, and this population is growing, though there are calls for culls. The Marsican bear whose territory lies south in the Appenine mountain range, also has a population of 50 -60 bears left. This population has been stable for the last 10 years.
Despite plentiful territory, Lynx do not seem to have successfully returned, and only exist close to the border with Switzerland and Slovenia where healthy population does still live, and therefore occasionally wander over the border.