The mountain gorilla is a sub-species of the Eastern Lowland gorilla. It is isolated on two sets of mountains, they are only a few hundred miles apart, but given the space between their populations is one of the most dense human habitation in Africa, reconnecting these habitats will not be possible in the near future.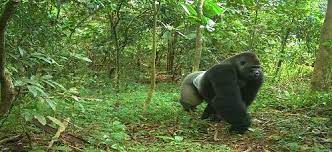 Mountain gorillas are very similar to eastern lowland gorillas, though as they have 8 inch hair all over their body, they look far larger.
Currently, there are 1063 mountain gorillas in the wild, split between their two reserves. This does not sound high, but has doubled since the 1980s when each reserve only had around 250 individuals. They are nowhere close to fully recovering, but it is questionable whether their two homes can support more gorillas than currently live there.