Bison have been missing from the UK for at least 6000 years (some estimates suggest that the Bison disappeared 10,000-11,000 years ago).
Bison are a species that is strong enough to knock down trees, allowing them to shape wild ecosystems, in ways that few other species can do so.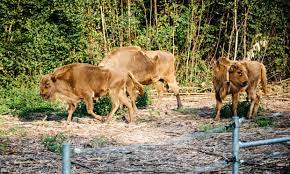 Blean is a woodland, not far from Canterbury. These animals have not been set free, they are in a large enclosure. The aim is that these animals become the founding members of a growing population. As these animals breed, their offspring will be released into different parts of the UK.
Other than this, their impact on Blean woods should be incredible, and will give us an idea of what they might do in the rest of the country when they are turned loose. Their knocking over of trees, are expected to increase all sorts of wildlife, including plants, insects lizards birds and bats to thrive in this woodland.
Another important point, is that natural woodlands are able to hold more carbon. As such, if we have the bison rewild woodlands across the UK, these woodlands are likely to be able to absorb millions of extra tonnes of carbon.
I hope to be able to visit the woodland (which is close to where I regularly stay) in the next few months. If this happens I will add a Bison video to our youtube channel seeanimalswild