We first headed to the area north of Västerås which is prime bear territory. Despite their size and therefore presumed clumsiness, bears are astoundingly quiet when they wish to be.
That being said, an area inhabited by bears or wolves tends to be pretty wild, and so there tends to be a feeling about the area. In the UK there are few areas with low enough density to allow this to happen but in Europe that is different. Sweden accentuates this even more, as Sweden only had a population of just under 10 million spread out over a country the size of France. This means Sweden has a population density of 24 people per square km compared to UK 407 per square km.
So in this area, as with much of Sweden, the majority of the land is heavily forested with occasional towns. We saw occasional fields with sheep or cattle, but much of the land shows little impact of humans.
Bears are shy, but highly intelligent. When hiking in bear territory it depends whether the bears mind humans. If the don't want to be seen, often they won't be. We had a few days hiking, finding the marks of bears (footprints and scat), but we then paid to go to an overnight bear hide.
I have visited several bear hides, and these are often out in the open allowing animals to be seen from all directions. The problem with this is that it takes some nerve for almost any animal to leave the shelter of the cover surrounding the hide. This hide in Sweden is only the size of a large shed, it is surrounded by light first in all directions, set on a hill. This means, in some directions you can see as far as 100m in others less than 10m. The hide has beds at one end, and windows on the other 3 sides, with camera holes as well.
I went with my daughter who is 5, and one of the guides. Usually, you are not accompanied by a guide, but as there was only two of us the added company was fine.
In the first few hours, we watched out for deer, a few of which walked past, and birds, of which we saw a peregrine falcon.
The hide has meat placed in different points around the hide, hidden under things requiring animals to hunt around. In the hours after arrival, you get used to being there and enjoy the quiet sounds of the wild. My daughter sat fascinated by a red squirrel which was playing on a tree 5 metres from the hut. He also kept running down the tree, to help himself to the bird seed put down.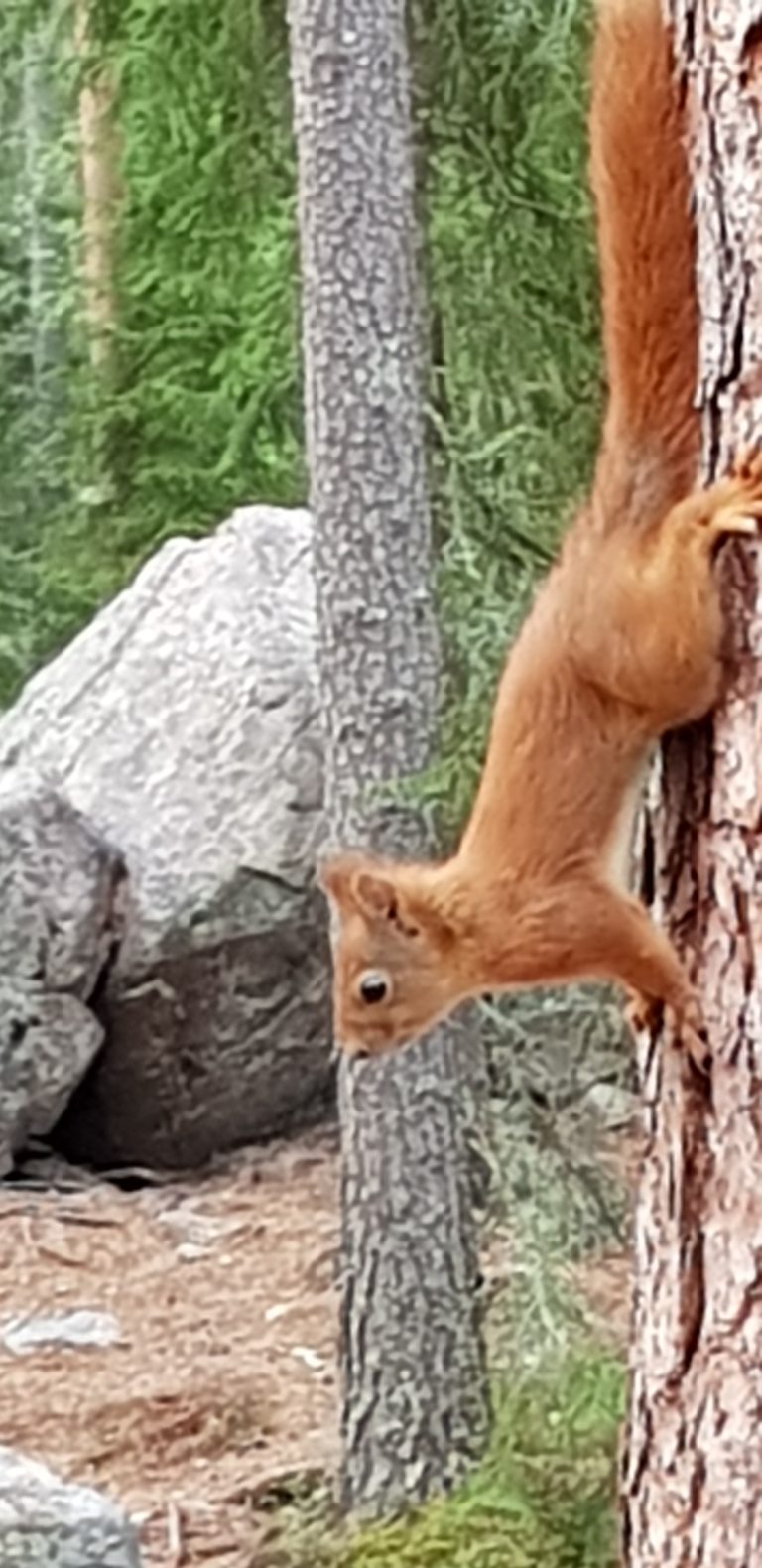 An hour later, during early dusk, small predators started to appear. We watched a badger, trotting back and forth helping itself to some of the meat. After a period, the badger became more and more concerned with something out of sight before finally ruining away, and a moment later a small bear came slowly out of deep cover to help itself to some food. However, it was clear that something even larger was in the bushes. The small bear got some food and ran off as a huge bear appeared. This one being so much larger, took far less care in checking his surroundings but helped himself to some more meat.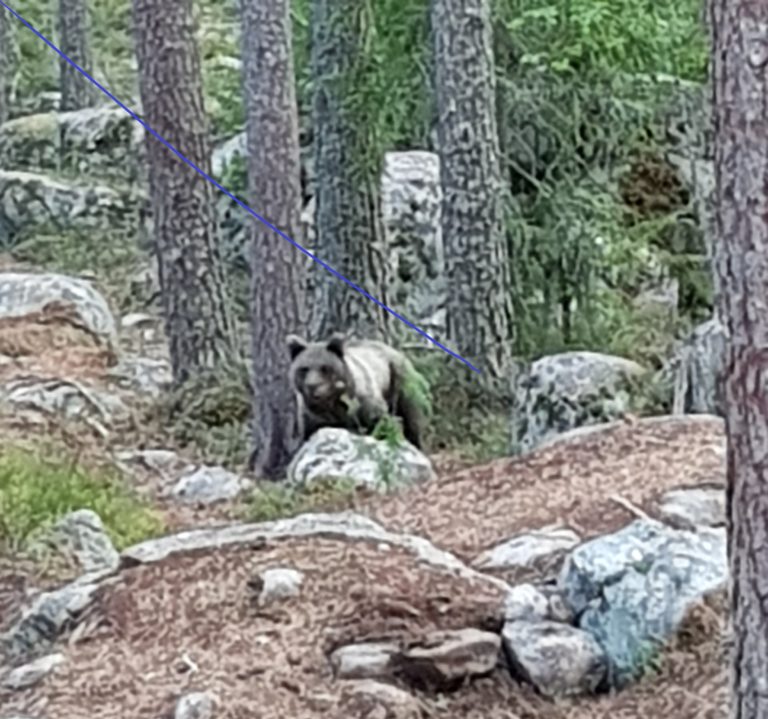 Photo Tim Welby
We then had another period of inactivity, watching the squirrels and birds for perhaps 30 minutes. Looking down the hill, I suddenly saw a large shape moving. It looked doglike but was way too big to be a fox, but the idea we might have a wolf visit seemed too good.
It vanished for a moment and I got the attention of the guide. Sure enough the she-wolf (as it became clear) trotted back into view and then trotted back and forth 4 or 5 times before disappearing back into the forest.
This far north it gets light very early,  and so come 4am we were looking out again,  and were rewarded by 2 adolescent bears playing and chasing each other around outside the hut. In total we had perhaps 2 hours of bears in front of us, a far more successful night than at any other hides we visited.
I currently own a Canon camera,  but it is faulty and the repairers don't appear to be able to do anything, so I was using a telescope and my phone. I got a number of pictures of the bears,  by digiscoping, but with the wolf I felt that I should enjoy the sighting. The guide managed to get a picture, clearly showing a pregnant female wolf, though not good enough for her to sell.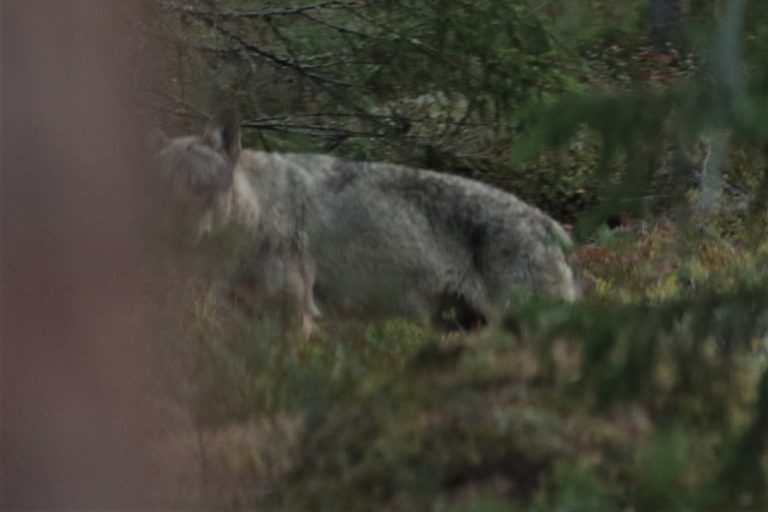 Photo: Wild Nordic
We were not ready to leave this area, and so the following night we camped wild,  not far from the bear hide. While we saw no animals on this night, we put our some meat, to see if any passed while we were asleep – never have food in your tent in bear country this can be dangerous – and some animal helped itself to much of the mince on offer. Unfortunately, the ground was too hard to see discernable prints,  but all other indications was that it was a bear.
If you are wanting to see bears, this bear hide is a fantastic option. While not cheap compared to an evening in a hide, is a good price for all night. We were particularly impressed, in them putting up my wife and little son overnight in their house for no added cost.