Wild Nordic Sweden bear hide - spend the night in the company of bears and...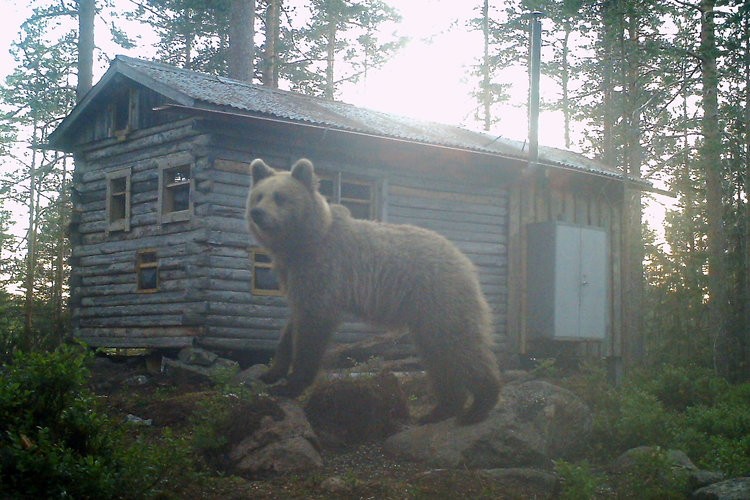 Bear hides are fantastic in many ways. The hides bring money into the area, and therefore give the local population an understanding of the value of sharing their land with them.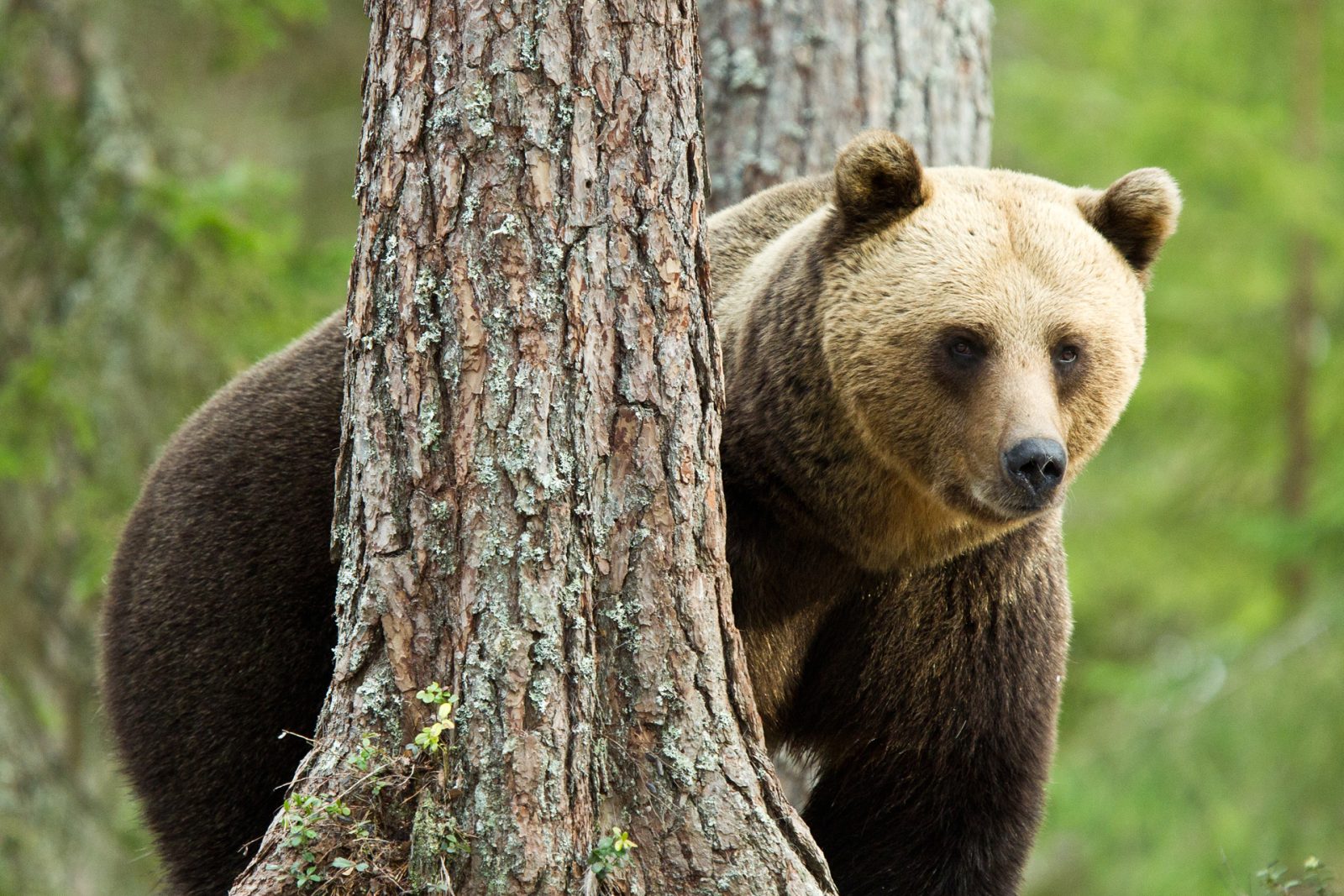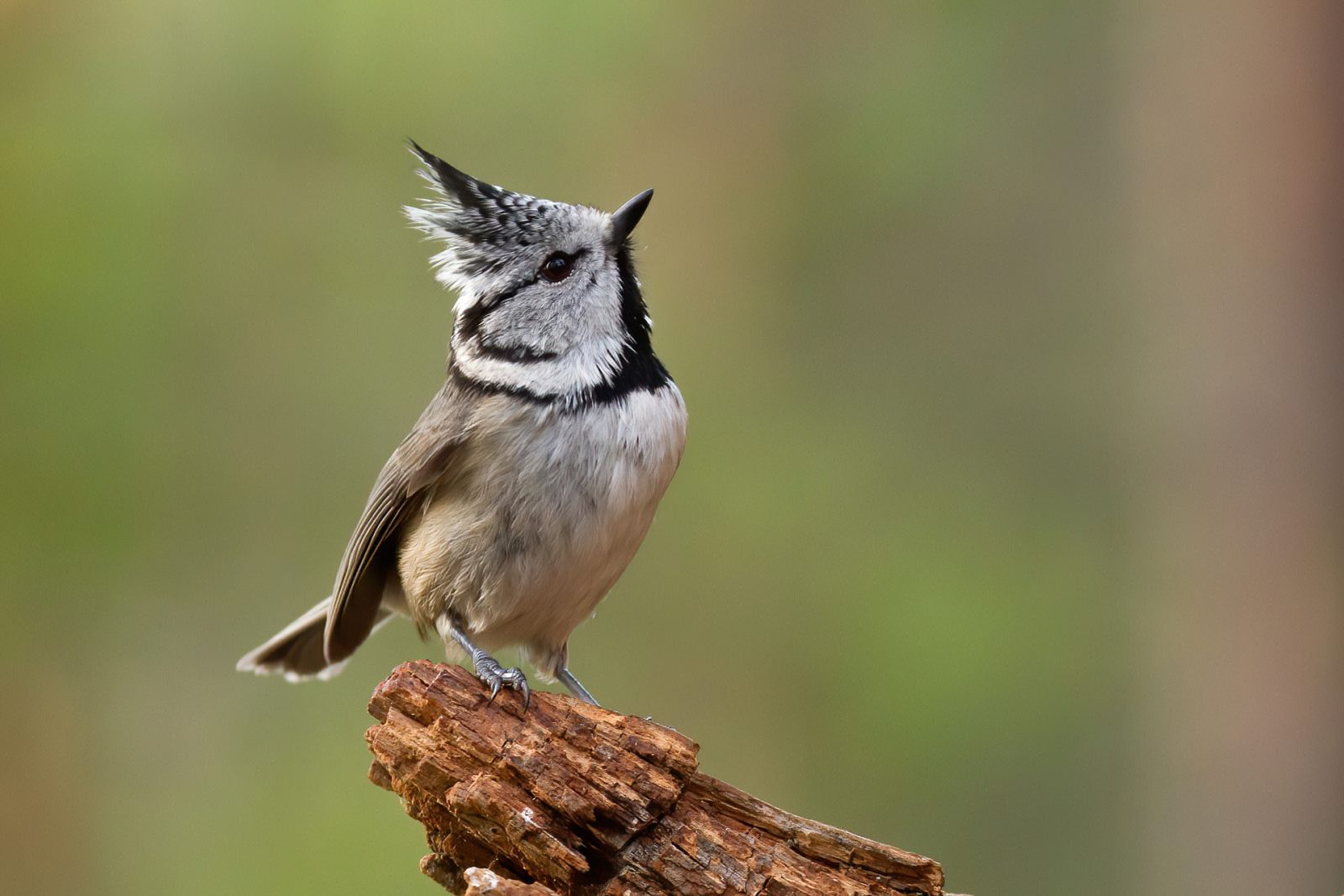 Below is a couple of my images. My camera had broken, so they were taken on a phone, though this demonstrates quite how close the wildlife gets to the hide. We watched these brother play for quite some time, until a bigger bear turned up, and they moved away.
These bears were brothers, and played happily in front of us for quite some time. Due to the setup, the animals were more relaxed than at other hides. My camera was not working at the time so for reference these were taken on a phone.
This bear hide is in a brilliant position. The picture of the bear is from relatively close, and this is necessary – there is not much of a clearing in the forest around the hide. The trees are spread right up to the hide, with good lines of sight through in all directions.
This sparse woodland means that the bears need not leave the woods to feed giving them more confidence to approach. As such during the course of the night we saw eight bears.
My daughter who was 5 (at the time minimum age was 7  though it has since been reduced to 5) loved the place. She watched a red squirrel climbing up and down a tree beside the hide, with fascination for hours. We also saw a badger as well as many fascinating birds, including birds of prey who came to get their fill of the food. Small children need to be capable of remaining quiet for long periods of time, as the animals will often run at any sound, however my daughter loved our visit and it remains clear in her mind. 
Late in the evening, a real treat turned up as well. A she-wolf came to look for food (we were told she must be pregnant because you can see her bulging side). We only got a minute or so in her presence, and it took me some time to realize that it was indeed a wolf (not that it could have been anything else, I just could not believe it was there.
As such the wolf picture is not the best. All my pictures were taken on a phone apart from the wolf, but that just makes it clear how close the animals were. PLEASE BE AWARE THIS IS RARE. While wolves do indeed frequent the woodland of Sweden, they are not regularly seen. Indeed records from the bear hide show that wolves are seen between two and eight times a season. We were particularly lucky, as the wolf did not simply pass by, but trotted around the area for a minute or two, sniffing the ground and seemingly showed interest in the meat left out for the bears. It should be noted that this would be very odd as it is unusual behavior, as wolves are so effective hunters, so get plenty of meat from their kills.
The hide is incredibly comfortable, with two bunk beds. The living area of the hide lies behind the photographer in the below picture. It is usually used by one group exclusively (particularly during this current health situation). 
They also have a success rate of about 90% for seeing the bears, which is higher than most hides. In the last season they saw wolves during the night about 10 times, so about 5% of the time (as you can imagine, wide roaming predators like wolves are not regulars at a bear hide, but clearly they pass by from time to time.
Wild Sweden has made some changes to keep everyone safe during Covid.
Generally groups do not share the hide, so if you book more than one guest, you will have it to yourself.
However, single bookings are different. Apart from anything, the hide is very remote and far from help (in case of emergency). Furthermore with three different directions to keep watch on, it is hard for one person to make good use of the hide. As such, a single person booking will be, anywhere possible, booked with another single person. With two people it is possible to keep a close eye on all directions and miss less wildlife.
When I visited with my daughter, we booked late in the day, and one of Wild Nordic Sweden employees was already booked in. They were quite happy for us to have it to ourselves, however we though extra eyes would be good, and indeed it was fantastic to have the company. I was also very pleased as the wolf picture we did get was taken by this lady.
The hide has a lovely feel, and can comfortably host a group of about 4 (more at a squash).
We greatly enjoyed our visit, and are keen to return some time soon.
Lying only a about two and a half hours north from Stockholm (meeting the ranger occurs in Kungsbergsvagen), it is possible to go for the weekend.
Pricing goes on the number of guests. Children are considered those between 5-15 years old. Below 5 children are unlikely to get much from the experience, and any noise can scare away the wild visitors.
1 person: 3000 SEK
2 persons: 3000 SEK per person
3 persons: 2400 SEK per person
1 adult + 1 child: 4200 SEK
2 adults + 1 child: 6000 SEK
2 adults + 2 children: 7200 SEK
The Season runs from 20 April – 10 September. The hide is bookable all days of the week except Monday. Bookings should be made as early as possible, as the hide is in heavy demand, and was used almost every night possible during 2020. Therefore please book as far ahead as possible to avoid disappointment.
Due to its latitude, during the summer months it remains light enough to watch the bears for much of the night. When we visited in August, it was light enough to see the bears until about 2am, and became light enough again at 5am. This means that this bear hide does not need to use night vision or artificial lights for you to be able to fully take advantage of your overnight stay.
Please fill in the form below in order to book the bear hide. Given the hide was used almost every available day last year, book as far ahead as possible.