I was watching a YouTube video on Tuesday which raises an important point.
Why do people on the whole continue to believe climate science is not settled, or that all of climate science predictions have been way out? This is not generally a belief that we come to on our own, it is usually fed to us by vested interests (either directly by fossil fuel companies, or indirectly by a publication which is sponsored, though this sponsoring is not always clear).
One of the most disgusting ways they do this, which is raised in the video, is by looking at a graph with a number of possible future lines. They then ignore the lines that are accurate and clearly mimic the warming that actually occurred, and simply leave the graft lines which were an extreme prediction in one or other direction.
What can we do about this? Our animal brains tend to pick and choose evidence that support the views we have already come to – this process often occurs without us even noticing.
It is therefore quite problematic if people are giving us a view of these climate science predictions from the past (in this case the graph created by a climate scientist called Hanson back in 1988, he plotted four possible temperature patterns, and one of them predict real-world temperature rises to a terrifyingly accurate degree.
So what people have done is to take an extremely clever piece of climate science that has accurately predicted the temperature rises over the last 40 years, and made a significant number of people believe that he had it completely wrong.
Now it is true that if you have an inquiring mind, one article is not likely to sway you. However, if, like many other people you believe something similar to what is being said in the article you are likely to trust it and may not search out others to check the veracity.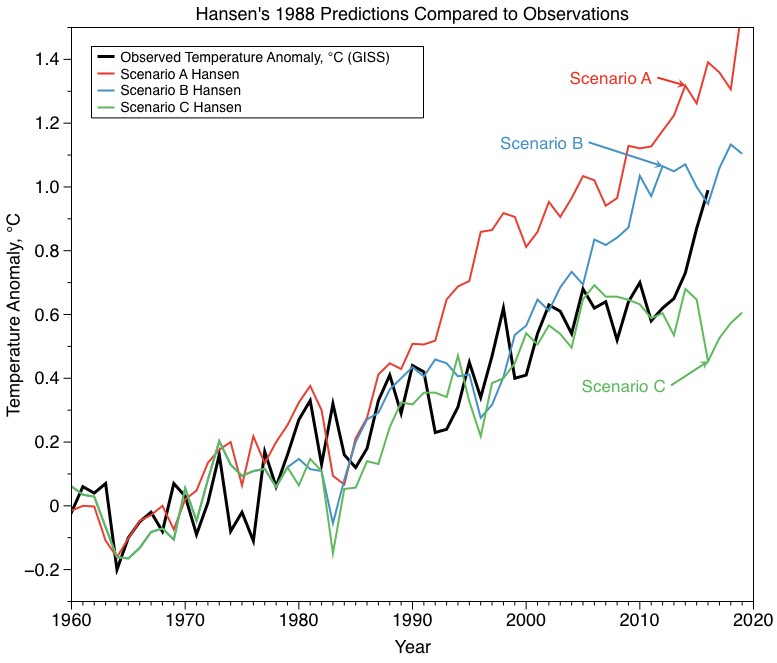 As the video shows, many vested interests have simple shown (as you see in the video) the observed temperatures (black line) and Scenario A (the red line). It is true that Scenario A overestimated the warming that we would experience. However, that is precisely the point – Scenario A represents what would have happened if humanity had continued as though there was no warning.
But that is not true! Many people would argue that we are not doing enough (and it is hard to argue this isn't a legitimate concern) but we have done something.
Carbon emissions in some countries have fallen dramatically. This is nothing to the amount of cutting that is required, but we have made progress.
Hansens actual prediction of where we would stand at this point, is scenario B. This at the point of the last actual data is right on the money. Actual observational data always takes time to come in, so we are yet to see if observational data will follow the latest rise that Scenario B shows. But it is surely clear to even people who rarely use maps, that predictions of the last 30 years have been alarmingly close to what was predicted back in 1988
What can we do?
The simple fact is that the climate science on global warming is settled. When politicians try to run on a concept that goes against this they should be called out for it. It is true that democracy does not always give you the best candidate. In recent times we have lived through for years where America elected a person who believed things that were totally out of line with established science.
We need to reach a point where if someone is stating something as fact which is clearly not, not only should they fail to be elected but the falsehoods they have spread should be corrected.
Furthermore, businesses that are responsible for large quantities of pollution should not be able to get away with whitewashing their responsibility. Look at who you are giving your custom to. If they are damaging the planet, and you are paying them for services then the damage is in your name and you are responsible (morally if not at the current time financially).
As consumers we have a great deal of power. Sure we want good quality items that don't cost too much, but we also do not want them to harm the planet. Engage with the businesses, if they are doing things that are bad for the planet. If they will not engage with you, then stop buying anything from them! If large numbers of their customers decide to go elsewhere businesses will quickly change their ways.
It was always foolish when Donald Trump stated that some action was too expensive.
Humanity will have to pay. If we do not pay to fix our mess now, then future generations will suffer the consequences.
If we do not act now, we are passing on the responsibility to our children and grandchildren – and they are likely to have to pay tens or hundreds of times what we considered too much. The cost will be paid, the bill that we are currently saying is too high, is tiny compared to the costs that we are passing on to our children. This is one of the issues with democracy – it is all very well to say that democratically elected leaders will work in the greater good, but the way elections work they only have to take into account the current voters. It is our job to make sure that short term policies do not win elections.