One of the most reliable and easy places to see wild mammals in the UK is Cardigan Bay. This bay in Wales has a permanent population of dolphins that live there all year round.
Estimates of the population varies from about 250-300.
While they can be seen at any time all along the Cardigan Bay coast, the most easy, and from our experience the most reliable, place to see dolphins is in New Quay harbour. This is relatively central within Cardigan Bay.
With a number of places to stay locally, both in terms of camping and hotels it is easy to find accommodation that will fit any budget (find links below).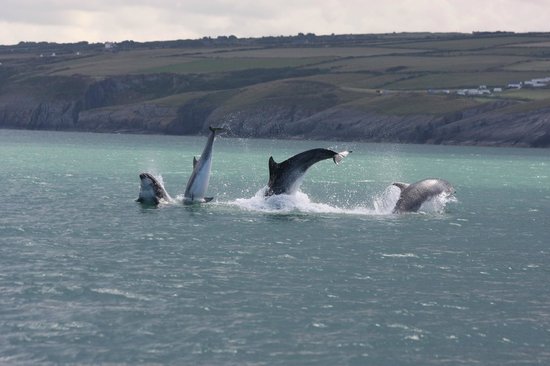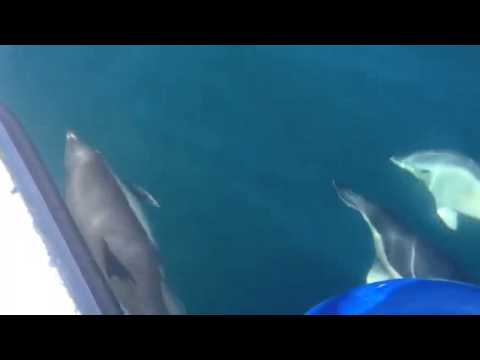 This is perhaps one of the easiest activities to undertake with small children. Dolphins tend to turn up pretty reliably around New Quay each evening.  Therefore there is little waiting for the animals (they are either there or not). They are also interesting animals to watch as they are highly intelligent.
When we are staying in the area we usually go in for sausage and chips and watch the dolphins while we eat.
There is a variety of places to stay in the area. There are a few campsites within New Quay, which range from holiday parks to a farmer who allows camping during the summer.
There are other towns nearby with hotels and B&B but New Quay is small . Anywhere along the coast you are likely to see dolphins though due to a fish processing plant, they are regularly around New Quay.
Below is a link to search the whole of Ceredigion county. Under this is links to hotels around the county. To the right is links for lodgings within New Quay – including campsites (coming soon) and holiday houses for rent. 
Aberaeron is a town further up the coast. Dolphins are regularly seen here and it is one of the best places to watch for dolphins.
There is hotel Pewig within Newquay. You can find this under the beneath booking.com link
[booking_product_helper shortname="cardigan bay"]