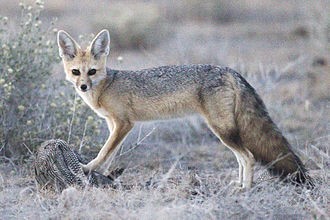 Also called assa, Cama fox and silver backed fox, it is a small species of fox native to Southern African – it is sometimes called the South African version of the Fennec fox. It is the only animal from the genus Vulpes in Africa South of the equator.
It is nocturnal, most active just before dawn, or just after dusk. Mostly found alone, when they pair to breed, they often look for food together. They are opportunistic eaters, eating almost anything they find. This includes everything from carrion and human waste food, to fruit and vegetables to, and a whole range of rodents, hares, rabbits, reptiles and insects. They have also been known to hunt animals as large as steenboks. They have been found to have 16% of their stomach contents being sheep. It is thought, however, that they would only be able to take small lambs under 3 months old, or are eating dead sheep as carrion.
There are lions who will actively hunt them, while a range of animals such as honey badgers and leopards will eat one if they come across it. Black backed jackals have also been known to eat them.