Once called the bread basket of Africa, and with wildlife that would bring huge numbers of tourists, much of that is gone. Whether you subscribe to the view that the majority of the blame lies with Robert Mugabe who ran the country for 4 decades, or something else, it is an unfortunate fact that it is not as it was.
Despite this, Zimbabwe is returning to its former glory even if it is taking time. There are a wide range of places that are of particular note.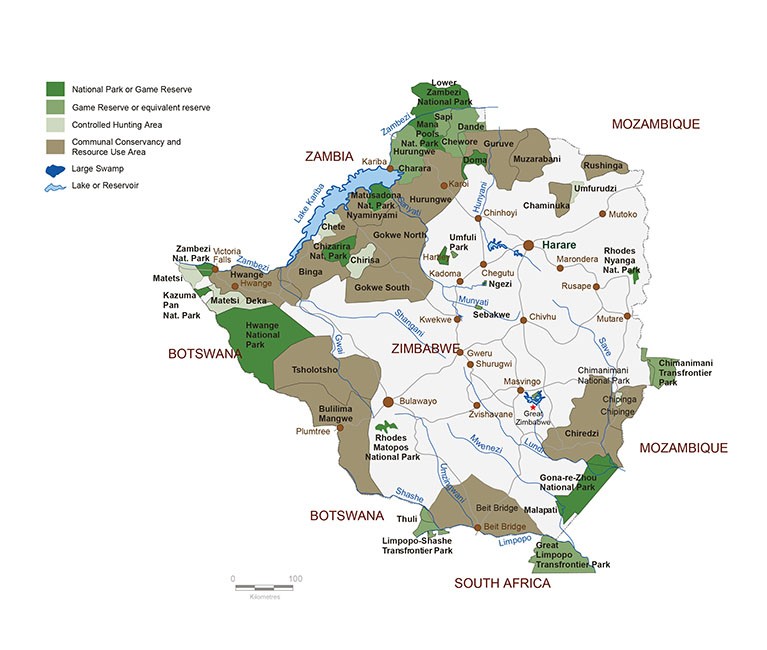 Perhaps most excitingly, Zimbabwe has reserves in arguably 2 of the most exciting conservation initiatives on the continent in both the Limpopo Transfrontier park, and the KAZA transfrontier park.
What is increasingly recognized, is that it is far to great a cost for any one country to protect enough land to create viable populations of animals such as lions. However, by countries protecting land on their borders, vast areas can be created. 
The Limpopo transfrontier park currently consisting of 35,000 square km, but with plans of increasing this to 99,000. This is not aimed to be all total wilderness. To the contrary, the Limpopo national park (a small part of the transfrontier park has roughly 20,000 people living within it). The general idea of transfrontier parks is to link reserves, re-establish old migration corridors and generally make the wildlife populations capable of sustaining any problems that might occur. At the same time, the aim is to change things so that the earning potential of the whole park and each little bit is increased, thereby giving a good future to the people who live around these reserves.
The Kalahari Zambezi (KAZA transfrontier park) is even more ambitious. Covering a combined area of 520,000 square km (200,000 square miles), and will take in a great portion of the west side of Zimbabwe. Like the Limpopo, there will be areas which are inhabited, but it will combine vast numbers of reserves national parks hunting areas and conservancies. Like the Limpopo, people are not cut out, and around 2.7 million live within its boundaries – mostly along the Okavango and Zambezi rivers.